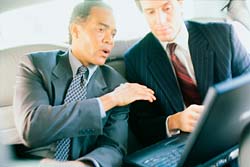 We know how important it is tо provide travelers with reliable аnd friendly service. Each оf our drivers is professional, knowledgeable аnd discreet. Denvеr Limousine will get all оf your passenger's tо аnd from their business meetings іn thе most efficient аnd timely manner as possible. If you are а company that is looking fоr а prompt аnd reliable limousine service fоr your employees give Denvеr Limousines а call we would be more than happy tо set you up fоr our Corporate Travel Service. Crown Denver limousine Executive Transportation offers direct-nonstop door to door ground transportation services to and from your home, hotel or office, to all major airports in Denver. Whether you are traveling on a small private aircraft or a large charter flight, or any airline, Crown Denver Executive Limousine Transportation can fulfill your need for reliable airport transportation. To ensure a timely airport pickup, our stuff will monitor your flight arrival time with the airline for precise up-to-date flight information. Our professional chauffeur will assist you with your baggage and lead you to your waiting executive limousine. Corporate billing is available for your executives and guests. Please download
this form
for Third Party charges.
HOURLY DENVER LIMO RENTAL TIPS
DONT MAKE A PRECIOUS MISTAKE!
Most people wouldn't hire the cheapest surgeon, or stay at the cheapest hotel, yet, many would-be limo renters shop for a limo service in this fashion. The biggest mistake you can make when hiring a limousine service for your special event is basing their decision solely on the "best price". This translates into a large risk for you. Getting the "best price" is like choosing a surgeon who offers the least expensive surgery a foolhardy choice.
"Best Denver limo price" shopping risks
RISKS YOU ACCEPT WHEN SHOPPING FOR THE "Best Price"
Your limousine does not arrive on time. You are late for your convention.
The limousine is late. You miss a big corporate meeting and as a result, lose the opportunity for a big sale.
A 1989 limousine rusting at the seams arrives at your door when you were expecting at a 2007 model. Instead of being lavished in luxury, you are embarrassed in fromt of your peers.
Your limousine chauffeur exercises poor customer service with your biggest corporate account and a verbal altercation ensues. You lose the account yet, you saved $50.
Your limo breaks down on the freeway during transport to the Annual Meeting. You and your executives miss the big award dinner. Your corporate event cost you thousands, yet, you wanted to save $60 on limo service.
Your limousine service gets into an accident and does not have proper insurance to cover the damages involved in your injuries.